10 Reasons Why Students Fail In CSS Exams
Last Updated on July 22, 2023
CSS is one of the most important and the dream of many students in Pakistan they want to crack the CSS exam at any cost because of the central superior services but most of the students fail in CSS exams.
The power they need and want to have in this world of dominance can really be achieved by cracking the CSS examination. The candidate who wants to crack the exam should be fully prepared about all the consequences and past papers and current affairs of the Pakistani country and the basic cycle of Pakistani people.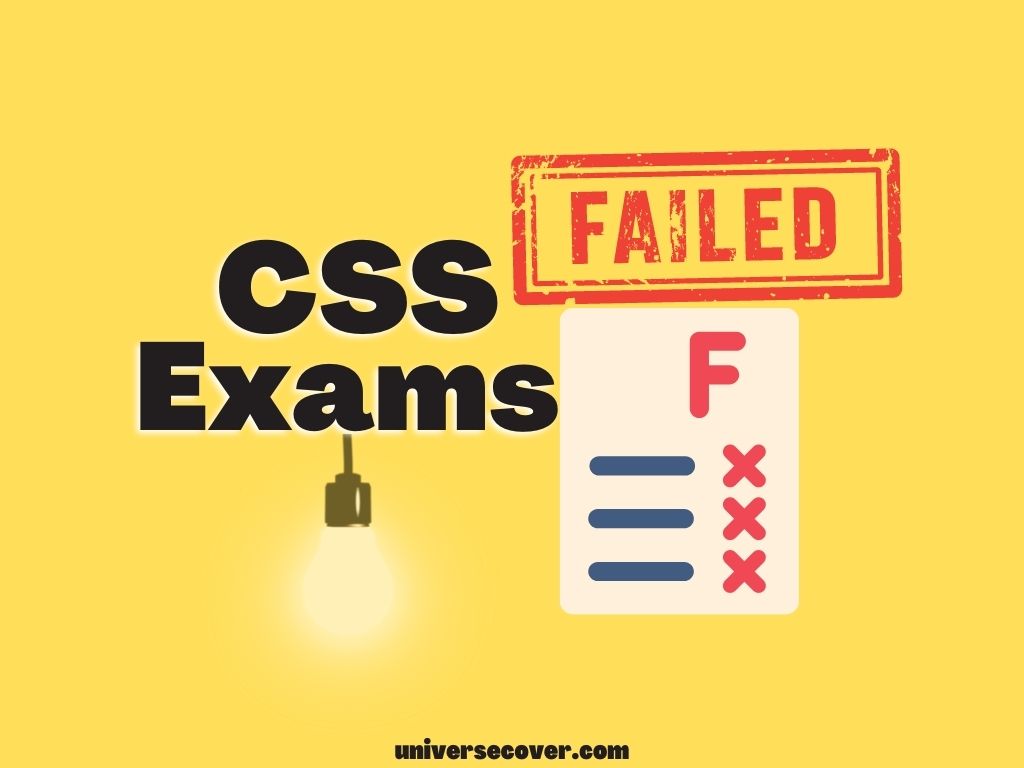 10 Reasons Why Students Fail In CSS Exams
1.No guidance
To be very honest most people don't know and don't have guidance that how they should go for the CSS examination. the students only realize when they got their result card in their hands that either they have faced a failure or they have tested success a CSS candidate only realizes when he has got the result card.
2. Command in English
That main these are the reasons that I have to crack the CSS examination or any competitive examination. compulsory subjects are always there like general science and preparation is also very important you have all the time that you need but the basic thing, in my opinion, is that you should have a command of the English language.
You should know the current affairs of the country and the world civil services is not an easy job, to be honest, CSS preparation required lots of hard work. I think Punjab University is doing a fabulous job of guiding the people.
Show my dear friends you should have a check on the latest news failure can be faced or tasted in any examination but she should not have the kind of fear that you will face failure.
3. Not reading Newspaper
You should check on the return science and read the English newspaper for better knowledge work on your grammar and written test obviously will be taken in the CSS examination and the CSS syllabus is full of that.
Unfortunately, the education system of Pakistan is not that good enough to prepare the students but the students should have the mental toughness to crack the CSS examination because it is a Central superior services exam that can give you immense power to change the system of the country.
4. Not having good writing skills
Service exam is very tough for any student whether you are a topper or not many University like Karachi universities are doing also a very fair job in guiding people. Writing skills are also very important you should have a clear knowledge of the things that are going on in the world. Critical thinking is also very important because writing skills will be immensely important in that examination.
Read the past papers and you realize that English is very important because your sentence structure should be very impeccable and correct when you are giving the examination. Your vocabulary should be very good and great which can play a hugely important role in that scenario.
According to my knowledge most of the people who do not crack the examination of CSS or fail the examination just because they don't have a command of the English language. Read the exam reports and see what the instruction is given there to crack the CSS examination and what the fps is saying
It is written very clearly and loud there that you should have a clear sentence structure when you are writing the English examination.
Students do get fed up and get frustrated when The teacher asked them to make a correct sentence structure but that is the need when you are out there to crack the CSS examination.
5. Not Choosing a correct subject combination
Have a correct subject selection when you are giving the examination for CSS. Select those subjects which are marks scoring and easy for you and suit your character and mind that you are going to be very easy to learn them and when you are writing those examinations it won't be a burden on your head.
Book selection is also very important than what kind of book is there is going to shoot your mind and needs when you are writing the CSS examination. it is very important if you ask me because everywhere does not suit the student.
Please identify your mistakes that what kind of errors you are making and what kind of things are there that you need to solve and improve as a student or as a CSS student when you go out there for the examination.
You should read the books of foreign authors and read those authors which have credibility in the basic subject that you are studying for the CSS examination.
6. Balance your time
Balance your time when you are studying the subjects do not fluctuate about one subject or do not study the subject to an extreme or to an extent that you don't have time for other subjects that is very important when you are going out there for CSS examination time management is very important.
7. Not preparing the notes
Prepare your notes when you are going out there for the CSS examination or in ur class when you are having that class listen very carefully to your teachers and what lectures they are giving to you and make notes which are easy to read and memorize for you because at crunch time you don't have that much time to memorize all the words and the chapters that are in the syllabus.
8. Not reading
Reading is also very important for the people who want to crack the CSS examination make sure that you study the newspaper on a frequent and regular basis because it will make you realize what are the current affairs that are going out there in the world and what are the crisis that Pakistan and other countries of facing because reading and newspaper or any good book will make you stabilize your own opinion because most all examinations that are being held are opinion based.
You have to go there and write your opinion about that certain that has been asked in the examination.
9. Not practicing writing skills is not improving them
Practice your writing skills and developed the writing speed that is very important to have when you are writing the examinations in the examination hall because people do not have that kind of speed that is needed that can help them to answer all the questions and save time for the revision of the examination people have preparation on the next level but still due to the slow speed in writing the current score good marks in the CSS examination.
10. Manage writing speed and time
Most of the students couldn't complete the examination in 3 hour time and that's why they panic a lot when the time is running away and decorate also all the questions that are being very well memorized by them or learned by them due to those anxiety attacks.
How to manage time is by practicing weekly or monthly a session where you are going to practice. you writing skills how to develop those writing skills and speed that is going to be very essential and crucial for you in the examination.
Make your own notes when you are going out there for the CSS examination because nobody knows you better than you and it will be very easy for you to go through those notes when the time is up and you have don't you don't have much time for the preparation in CSS examination practice. The essay writing and precise structure consistency and hard work are very important in that kind of examination which is very high and committed in any way or any way for the person who is having the plan to crack those examinations so please back yourself up, work hard, burn your midnight oil if you want to crack the examination of civil services.
Because hard work beat talent if talent doesn't work hard.