Can Students Sell Things at School? 10 Best Items
Last Updated on October 4, 2023
If you sell any items at school, this can be difficult for students because high school rules are different state by state but if we look at students points of view. Sell things to earn some extra money to make themselves financially stable or engage in entrepreneurial activities.
But it is essential to understand the guidelines and regulations surrounding this practice in school, college, or university.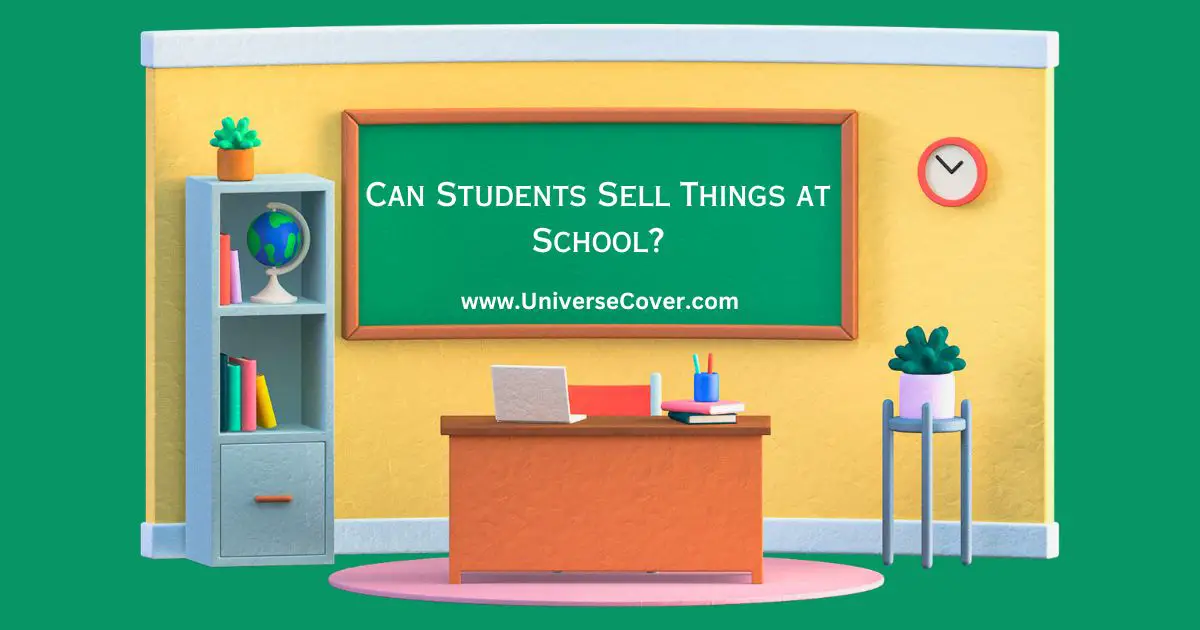 In this article, we will delve into the topic of whether can students sell things at school.  
Let's find out!
Can Students Sell Things at School?
In the United States, selling things at school is basically not illegal, but perhaps it is against school rules. If you sell something once in a while, like a pen, gadget, or book the school might not mind. However, if are not mature and you start running a business at elementary school and any other school level, then this is a big issue for the school administrator to close your small business.
But in my opinion, if you think deeply about Selling at school, this will provide an excellent opportunity for poor students to develop essential skills such as entrepreneurship, financial management, and communication. 
The Benefits of Students Selling Things at School
1. Financial Independence
Many students face challenges in earning money. But they sell any items at school, and students have the opportunity to earn extra money and become financially independent. This experience teaches them important lessons about managing money, saving, and understanding the value of hard work.
2. Entrepreneurial Skills
Skills is the major component for success in life and when you sell anything in your elementary school or in college, this will improve your skill about how to promote the product and how to discover a creative way to make yourself grow.
3. Creativity and Innovation
Selling at school encourages students to think creatively and come up with innovative ideas in their mind and also this make students mentally strong. They need to find unique product ideas, design appealing packaging, and develop effective marketing approaches to differentiate themselves from the competition. 
4. Building Confidence and Communication Skills
Selling items at school requires students to interact with customers. This interaction helps them build confidence and improve their communication skills. They learn how to effectively communicate the features and benefits of their products, address customer concerns, and even negotiate when necessary. These skills are valuable in various personal and professional situations.
5. Social Connection
If you are a college student, this is easier for you to sell anything but if you are in middle school, this is not good because your age is not enough to sell anything, you should keep focus on your studies. 
For College students, selling anything make you better at social connection. You see how people react and how people respond to the your overall selling performance. so, when you sell anything you make your self better at public level.
Nowadays many wise students do not put the burden of their studies on their parents like college fees, university fees, etc. so this is why many students like to earn money online and some students sell physically any item  anywhere.
Overall, selling anything at school provides students with practical experiences that contribute to their personal and professional development.
It empowers them financially, nurtures their entrepreneurial skills, enhances their creativity, boosts their confidence, and promotes social connections within the school community.
What Are The Best Items To Sell At School?
Many students sell the item to earn extra cash and also the product is good for profit, we think these products are useful for our readers so we bring some 10 best product for you to sell that is best for buyer and seller. 
(This article contains affiliate links).
1. HP 2023 Pavilion
The laptop is a very good product for you to sell because laptop demand is very high now because of the pandemic. This laptop is an i7 and is for Special for students for online classes, Google Classroom, or for business.
HP 2023 Pavilion 15 Business Laptop
2. Apple iPad
The iPad is beneficial for students to earn money and profit by freelancing, tutoring, app development, content creation, and selling on online marketplaces. Thats why we give this iPad in 2nd number of this list item.
3. Apple iPhone
The Apple iPhone can be a very good selling item for students to earn money with a profit due to its advanced features, high performance, and popularity among consumers, allowing them to leverage various money-making opportunities.
4. AirPods
AirPods are also a very popular item for students to sell and earn money profit because they are in high demand and offer a good profit margin. They are a desirable product among students and young people, making them easier to sell. One more thing we add here is AirPods are compact, lightweight, and easy to carry, making them convenient for online sales and especially physical as well.
Apple AirPods (3rd Generation)
5. Backpack
Backpacks can be a great item for students to sell with profit because they are high demand among students. Students can use backpacks for laptops, iPad, smartphones, AirPods, backpacks, pens, cool gadgets, smart watches, mini projectors, and headphones.
Backpack Water Resistant Anti-Theft Bag 
6. Pen
A ballpoint pen is a good option for students to sell items and earn money profit because it is affordable, practical, and widely used by students and professionals alike.
7. Cool Gadgets
Yes, the Cool Gadgets Magnetic Globes Floating Globe World Map with LED Light Base can be a good item for students to sell and earn money with a profit. This gadget is specially designed for science students.
8. Smartwatch
A smartwatch can be a good and profitable product because it is a popular and in-demand wear able device. It offers various features like fitness tracking, notifications, and connectivity that appeal to a wide range of customers. Students and teachers both like smartwatches.
9. Mini Projector
A mini projector is very good for effective products for presentations to teach students and also benefits for home tuition. 
10. Headphones
Wireless headphones with good sound quality and affordable pricing are a popular choice for students to sell and earn money with profit.
Conclusion
To conclude we can say that High schools should allow selling any item for high school students college for college students and university for university students because this can make students responsible. But for kids, they should focus on their studies. 
For mature students, you should keep in mind that if the school rules against students mean that If they don't give permission, you must not sell anything and follow the school rules.